Bikes on Board
All AC Transit buses are equipped with bike racks at the front of the bus. To load your bike:
Remove locks and bags.
Make sure the driver sees you before stepping in front of the bus.
Driver cannot provide assistance in loading.
Squeeze and pull up on the rack handle to release it. Lower the rack until it clicks into place.
Use the inside slot first. Two bikes will face in opposite directions.
Lift your bike onto the rack, fitting the wheels into their respective slots.
Pull out and raise the support arm over the top of the front tire as high up as possible.
Do not lock your bike to the rack.

In addition, the MCIs (the big, green commuter coaches) have cargo bays in which bikes can be loaded. Do not open these bay doors. Instead, alert the driver who will open the cargo bays for you.
Keep in mind:
AC Transit is not responsible for loss or damage to bikes.
Bicycles are allowed inside buses between midnight and 5:30 a.m. weekdays and between midnight and 9 a.m. weekends and holidays, if the rack is full and there is room inside. Exception: Bicycles are never allowed inside MCIs (the big, green commuter coaches).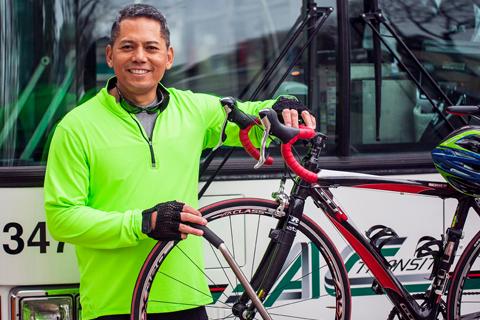 Why You Should Bike and Ride on AC Transit
The East Bay is a great place to ride your bike. With more than 254 miles of bikeway in Oakland alone, and an extensive network of paved trails maintained by East Bay Regional Park District, bicycling is becoming more popular than ever. Commuting by bicycle is also on the rise. According to Bike East Bay, multi-modal commuting— and bicycling to improve transit connections— is contributing to this rise. What makes multi-modal transportation such a desirable option for bicyclists? Is bike and bus commuting right for you? Here are some good reasons to give it a try.
First Mile, Last Mile
People are most likely to take public transportation when they live and work within walking distance to a bus stop that can get them to their destination efficiently. However, the growing population and high cost of housing in the Bay Area is pushing people further out from employment centers—resulting in longer first and last mile connections to transit. Adding a bike to your commute greatly reduces the time it takes to get to the nearest bus stop from home or work and vice versa—enabling faster point-to-point connections.
Expand Your Reach
Similar to the point above, adding a bike to your commute can greatly expand your reach. The main reasons people report for commuting by bike and bus are that it is faster than using bus alone and their trips are usually too long to be taken entirely by bike. Using bike and bus on AC Transit, riders can travel longer distances faster, connect easier with other transit agencies and access areas that would have otherwise been cut off by barriers like bridges and tunnels.
Reduce Carbon Footprint
While biking or walking are the "cleanest" commute options, sometimes you need to get somewhere that is not easily accessible by bike. That is where AC Transit comes in. Add the bus to your trip to prevent taking your car. Buses produce less pollution than cars per passenger mile by using advanced technologies, cleaner fuels and meeting higher standards.
Health and Fitness
Everyone knows that being active is good for your heath. Daily exercise can reduce your risk of numerous diseases; improve your mood and cognitive function and many other benefits. Did you know that people who take public transportation are more active in general than those who don't? The CDC recommends 22 minutes of moderate physical activity per day—riding your bike or walking to the bus is a step in the right direction toward a healthy lifestyle.
Cost Savings
Taking public transportation is cheaper than driving your car. With gas prices, car payments, maintenance and tolls, driving can really add up. Taking the bus is an affordable option for getting around the Bay Area. If your trip requires a transfer or two, adding your bike to your commute can save you bus fare as well.
More accessible
Since 2002, every bus in the AC Transit fleet has been equipped with two-position bike racks. But with the surge in bicycle commuting in recent years, these racks are now often full and some bicyclists find themselves unable to load their bikes at the stop. Luckily, taking your bicycle on AC Transit is getting even easier. This spring, AC Transit began introducing three-position bike racks on every new 40-foot bus. This means that more bicyclists will get to complete their multi-modal trips successfully. To learn more about Oakland's 254 miles of bikeway, Download maps provided by the City of Oakland.
Watch the "how-to" video to see bike loading in action. For detailed loading instructions, Download our printable PDF.
Loading Your Bicycle
Keep in Mind
You may only load and unload bicycles at AC Transit bus stops.
Space on the rack and in the MCI cargo bay is available on a first-come, first-served basis. If the space is full, please wait for the next bus.
From 5:30 a.m. to midnight, all bicycles must be placed on the rack – bicycles are not permitted inside the bus. From midnight to 5:30 a.m., you may carry your bike inside the bus only if the rack is full and space is available.
Bike racks can accommodate two-wheeled bicycles (no tandems) with a wheelbase of up to 44 inches and a wheel size of at least 16 inches.
You must load and unload your own bike. The bus driver cannot provide assistance.
AC Transit is not responsible for loss of or damage to bicycles carried on buses.
If you accidentally leave your bike on the bus, you can report it at actransit.org/feedback or (510) 891-4706 at any time. AC Transit Lost & Found staff will notify you the next business day if your bicycle is recovered. All unclaimed items are retained by AC Transit for 90 days.
Sharing the Road
Communication and good will are key to buses and bicycles sharing the road. Bus drivers are required to signal when pulling to the curb at a bus stop. Listen for the signal sound of an overtaking bus, then signal and pass the bus on the left when clear. Never endanger bus passengers or yourself by passing between the bus and the curb!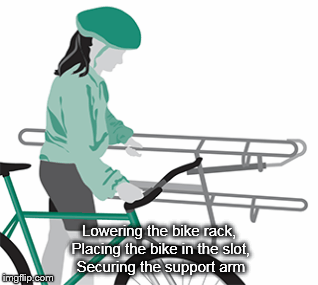 For detailed loading instructions, Download our printable PDF.