AC Transit COVID-19 Information Center

AC Transit has been keeping the East Bay moving for 60 years. Prior to the COVID-19 pandemic, our community took over 53 million rides annually. Whether you're currently riding or will be back with us soon, we're working around the clock to provide you with a safe ride.
We've united with our transit partners across the Bay Area with the common goal of providing a safe ride for the public as the region responds to the COVID-19 pandemic. Learn more about the Riding Together: Bay Area Healthy Transit Plan here. Read the resolution endorsing this plan as a baseline set of measures from the AC Transit Board of Directors here.
Our reNEW Plan goes beyond the standards of this plan to help keep the East Bay healthy and thriving. Read our reNEW Plan here.
Click on links below for more information.
Hand Sanitizers and Face Masks On Board
AC Transit is excited to announce the installation of face mask and hand sanitizer dispensers on our fleet. You will notice the enhanced safety measures onboard, as the dispensers will be secured to the panels above the steps of the rear or middle doors.
The masks we provide are made of environmentally friendly material, such as natural rubber, and are moisture-proof, non-toxic and latex-free. The hand sanitizer contains 70% ethyl alcohol for maximum protection and has skin moisturizer to prevent dryness or irritation.
For questions or comments, please call Customer Service at 510-891-4777, or submit input to rideact@actransit.org or visit actransit.org.
Passenger Capacity and Protective Wear
The Alameda-Contra Costa Transit District (AC Transit) is committed to protecting the health, safety, and well-being of our passengers and employees. As a result, we will operate with lower rider thresholds in order to follow social distancing guidance and avoid overcrowding. If a bus nears capacity, our operators may bypass stops and turn on the "Drop-Off Only" head-sign. Riders on board can continue to exit buses at their requested stop.
As a result, AC Transit directly appeals to our riders and communities, to partner with us in maintaining the following passenger thresholds:
30' feeder coach – 6 passengers
40' standard coach – 10 passengers
60' articulated coach – 16 passengers
44' double decker coach – 24 passengers
We continue to monitor capacity on our fleet daily. We are prepared to make changes as needed and when additional resources become available. We appreciate everyone's cooperation and apologize for any inconvenience.
In addition to social distancing, riders are required to wear a mask on board, covering their nose and mouth. We have rolled out installation of face mask and hand sanitizer dispensers on our buses. Thank you for following Public Health guidance and helping support our commitment to everyone's safety onboard.
Customer Education
We recommend you continue to follow guidance from the California Department of Public Health. Please observe the following:
Protect your and our collective health by practicing social distancing. Maintain six feet space from fellow passengers and the operator.
Wash your hands frequently with soap and warm water. Read more here.
Cough or sneeze into a disposable tissue or cover your mouth with your elbow.
Clean and disinfect commonly touched surface – like cell phones and computers.
Stay home if you are sick.
For more information, including guidance documents, please visit the website the CDPH website.
Enhanced Cleaning Measures
We have increased our cleaning practices by sanitizing all coaches at the close of daily service. Commonly touched surfaces such as handrails, seats, and fareboxes are being cleaned daily with detergent and disinfected with a bleach-based solution.
For more information on our enhanced engineering controls, please read our Press Release.
Ventilation on Our Buses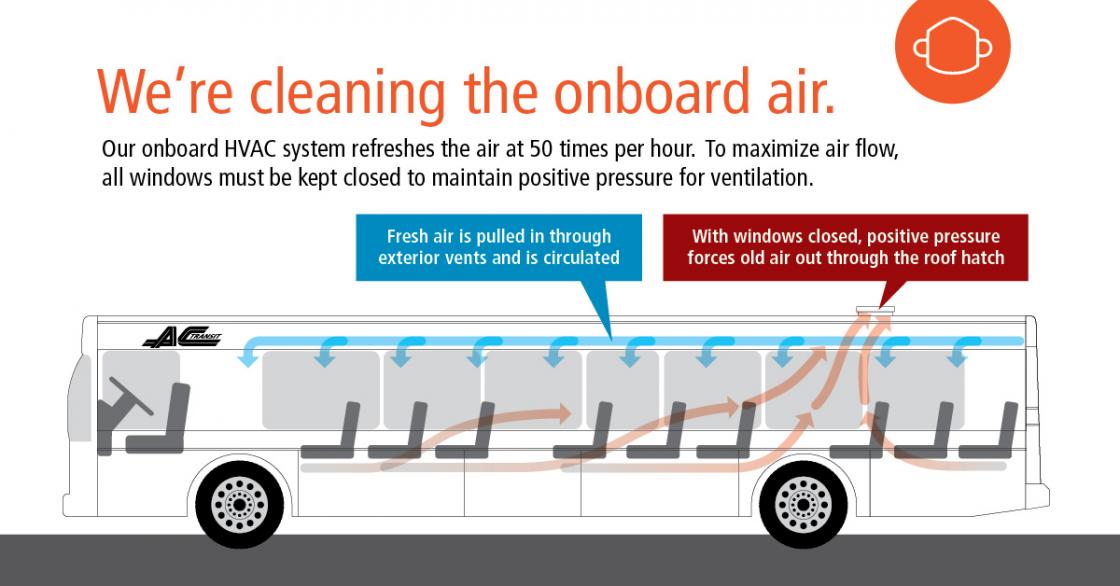 Every AC Transit bus is doing much more than safely getting you to your destination; our buses are also filtering the onboard air.
By keeping all windows closed, new air filters along with the HVAC system, create a powerful air vacuum forcing old onboard air out and circulating fresh-filtered air every minute and 12 seconds.
It's cleaner air for everyone on board.
How do we maintain onboard air quality?
The closed windows, in conjunction with the onboard HVAC system, create positive pressure that pulls fresh air inside the bus and forces old air outside the bus.
While it is true that opening windows can bring fresh air inside the bus, doing so also creates onboard turbulence that either slows or prevents air from entering the HVAC system. Onboard ventilation cannot then be properly maintained because the air vacuum of the HVAC system is dramatically disrupted, which both reduces filtered air and its quality.
How can we optimize safety onboard for everyone?
In response to COVID-19 health orders, safety experts conducted a series of tests to examine the flow of air onboard our buses. Ventilation conditions were tested with windows opened and closed. The test results unequivocally concluded that any open window will disrupt the onboard air quality. By keeping bus windows closed with HVAC systems on, safety is optimized.
If you have any concerns regarding ventilation on our buses, please call Customer Service at 510-891-4777 or submit input to actransit.org.